Well, here it is, folks.  My final networked learning post.
Throughout this semester I contributed to my peers' learning by commenting on their posts.  Sometimes the information I provided was helpful, and sometimes it was just encouraging to let my friends know that I think they're awesome and that they're doing a great job.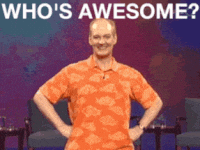 The first person who I commented on regularly, with suggestions and encouragement (and humor of course) was my good pal Alyssa.  She was doing her learning project on playing the guitar, to which I have no first-hand experience, as the only instrument I can even pretend to play is the piano.  Check out some of the comments I provided on her blog:
This slideshow requires JavaScript.
Another blog I tried to stay current on and add my (limited) knowledge to was my other good pal, Rebecca.  She was teaching herself sign language for her learning project, which I think is extremely interesting and relevant as an educator!  As I previously stated, my knowledge is limited so I did what I could to provide suggestions and encouragement to Rebecca.  Check out some of my comments!
This slideshow requires JavaScript.
But I also commented so much more on so many other people's blogs!  Some of my peers were learning some really cool stuff, that even though I didn't have much to contribute, they're posts still definitely peaked my interest.  For example, Laura was learning about cooking with an Instant Pot.  While I thought that was definitely cool, I was worried about some of the horror stories one hears to do with the pressure cooker (like exploding) – I asked Laura many questions about it, she reassured me that she's not nervous cooking with it, which made me actually go out and buy one!  I was all the more excited that I got one once I saw her post about Lasagna.  Or while I was learning how to be on a Ketogenic diet, reading Julia's posts about being Keto definitely gave me encouragement to persevere on with my journey!  So many of my other peers were learning about very neat things, too much to talk about each individually, so I incorporated all my screenshots of my little comments on their posts in a little slideshow, which I hope y'all enjoy!
This slideshow requires JavaScript.
Sometimes, I even incorporated others' learnings and referenced such learnings in my blog posts, such as I did in this example, as I referenced one of Amy's blog posts in mine:
But that's not all the knowledge I contributed to our online community.
I also participated in many Twitter discussions, with many of my peers.  Here's a little slideshow screencap of some of those convos:
This slideshow requires JavaScript.
And with that, that's the overview of my participation in our online community.  I could've contributed more, yes, but I also could've contributed less.  And with such a busy semester, I am proud of the work I was able to put into my digital citizenship, and contribute to the learning of my peers (hence the reference to the nice guy meme).
Via QuickMeme
And with that, I hope you enjoyed my FINAL NETWORKING POST.  Woohoo to being done uni!!